As a part of the commitment to increase understanding of the use of solar at K- 12 schools, the Solar Foundation (TSF) and its research partners at the Solar Energy Industries Association (SEIA) have built the most comprehensive database known of K-12 schools that have gone solar in the United States. The data was compiled and developed into a report, A Brighter Future: A Study on Solar in U.S. Schools. The report is the first nationwide assessment of how solar energy helps to power schools across America. Most importantly, the report shows that thousands of schools are already cutting utility bills by choosing to go solar and using the savings to pay for teacher salaries and textbooks. The data collected and analyzed in the report was built between March 2013 and July 2014 from hundreds of public and private schools.
Findings from the Report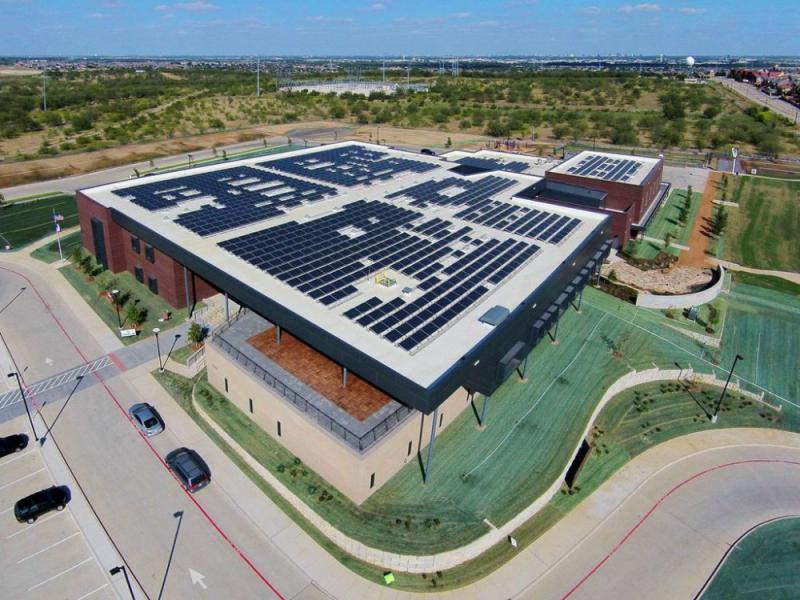 As of 2014, there were 3,752 K-12 schools with solar installations, meaning nearly 2.7 million students attended schools with solar energy systems.
The 3,727 PV systems have a combined capacity of 490 megawatts (MW) and generate about 642,000 MW-hours of electricity each year. That is equivalent to $77.8 million worth of utility bills and enough clean, renewable energy to offset 50 million gallons of gasoline.
Solar potential remains largely untapped. Of the 125,000 K-12 schools in the country, up to 72,000, or 60%, can go solar cost effectively.
Approximately 450 individual school districts have the potential to save more than $1 million over 30 years by installing solar PV.
How Texas Compares
Texas ranks 14th in the nation for schools with solar capacity.
Texas has 95 schools with solar PV systems.
Texas schools have 1,893 kW of PV capacity.
Texas schools have generated 2,455,334 kW-hours per year from the solar PV systems.
The energy generation from Texas schools is valued at about $201,286 per year.
To read the full report, A Brighter Future: A Study on Solar in U.S. Schools, click here.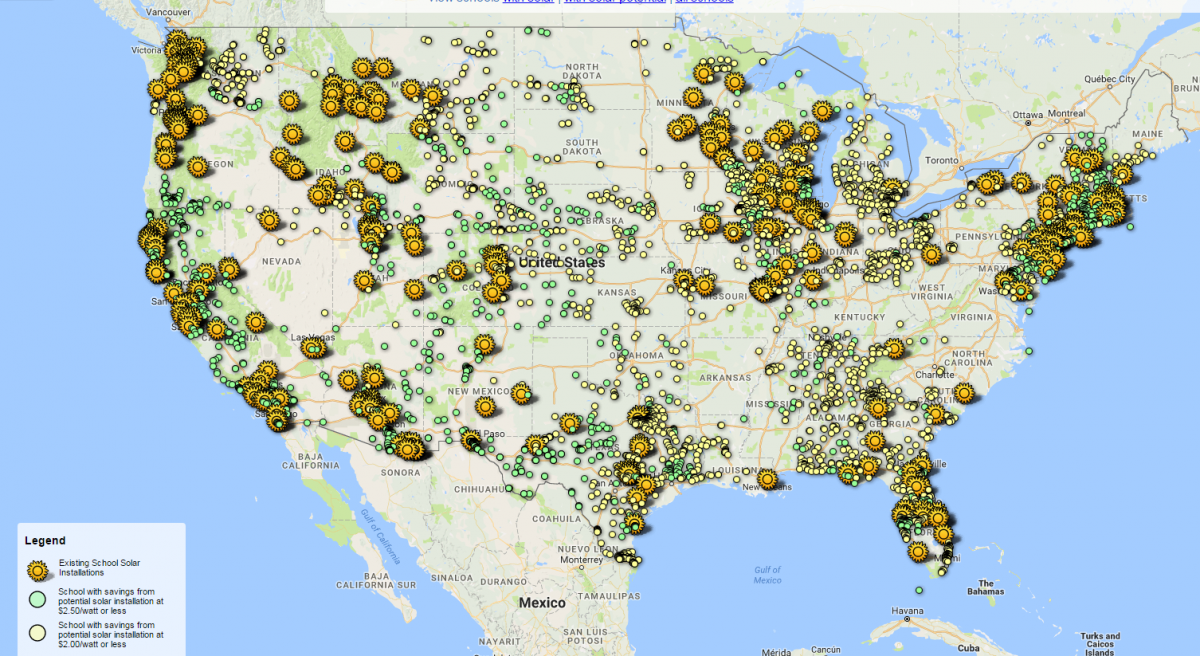 This interactive map provides information on the solar status of K-12 schools in the U.S. The information is meant to encourage sharing of ideas and best practices between schools experienced with solar energy and those seeking to go solar. The map summarizes the data collected for the report. The schools who have already gone solar are indicated by the "sun" pins, and non-solar schools are shown with a green or yellow point, which indicate the potential to go solar in a cost-effective way.
Curious if your school has solar or might be a good candidate for solar? Find your school on the Solar Foundation's interactive map!
Want your school to go solar? Use SEIA's Act Now resources to email your administrator.
To get your solar school added to The Solar Foundation's National Solar School Census database and map, fill out this form!