The following resources provide an overview of regulations pertaining to solar for homeowners, local governments, and nonprofit utilities.
Texas House Bill (HB) 362: The passage of HB-362 limited homeowners associations (HOAs) and property owners associations (POAs) from restricting solar devices outright. To comply with this law, homeowners that live in neighborhoods with HOAs must still follow the normal procedures for seeking improvements, including a written request or application to an appointed Architecture Review Committee or similar council. HB-362 amended Texas Property Code Section 202.010 as outlined below.
Texas Property Code Section 202.010: HOAs and POAs cannot prohibit or restrict a property owner from installing a solar energy device as defined by Texas Tax Code Section 171.107. However, the following exceptions do give HOAs the power to restrict solar panels if one of the following conditions exist:
If the solar energy devices are illegal or violate public health and safety
If they are located on common property within the subdivision
If they extend higher than the roofline, do not conform to the slope of the roof, or are not parallel to the roofline
If they are ground-mounted and extend above the homeowner's fence
If they are installed in a way that voids the warranties
If they have an element that is not in a silver, bronze, or black tone
If they are installed without prior approval by the HOA
HOAs can also designate where solar panels may be placed on a homeowner's roof. However, the homeowner can petition for an alternate location if he or she can prove that the alternate location would increase the estimated annual energy production of the solar panels by more than 10% by using a modelling tool provided by the National Renewable Energy Laboratory, such as the PVWatts Calculator.
Texas Senate Bill (SB) 1626: The enactment of SB 1626 closed previous loopholes by allowing developers to prohibit homeowners in residential subdivisions from installing solar panels on their homes during the development period only if the development consists of 50 or fewer units.
Solar United Neighbors' has several resources for Texans interested in residential solar and want to understand their rights.
Local Government Energy Reporting: According to Texas Health and Safety Code §388.005(c), municipalities, political subdivisions, institutions of higher education, and state agencies within ozone nonattainment and near nonattainment counties must reduce their electrical consumption by five percent each year for seven years, beginning Septermber 1, 2019. Applicable entities are also required to submit an annual report to the State Energy Conservation Office (SECO) documenting their annual energy consumption and efforts to achieve the five percent reduction goal. The expansion of solar energy generation is one means by which entities in nonattainment counties can meet their energy reduction goal.
Appendix T: Appendix T of the ICC 2018 International Residential Code (also found as Appendix RA in the 2018 International Energy Conservation Code for all commercial and residential construction) consists of solar-ready provisions for new construction of detached one- and two-family dwellings and multiple single-family dwellings and townhouses. If this optional Appendix is adopted via municipal ordinance, these provisions become mandatory building code regulations in that municipality as is the case in the Cities of Lewisville, Houston, and Austin, who adopted Appendix U of the 2015 IRC.
Solar United Neighbors' has several resources for local governments interested in solar.
Unlike much of the Texas power market, munis and co-ops are excluded from deregulation, meaning that they can remain vertically integrated and are not required to participate in competitive retail markets. Because of this, their electricity rates are often stable and relatively low compared to rates in the deregulated market.[i] Munis and co-ops have the option to "opt-into" competition if they choose; however, only one co-op, Nueces Electric Cooperative, has opted into competition to date.[ii] Although regulatory requirements for nonprofit utilities are few, utilities should be aware of interconnection and registration requirements associated with distributed generation (DG).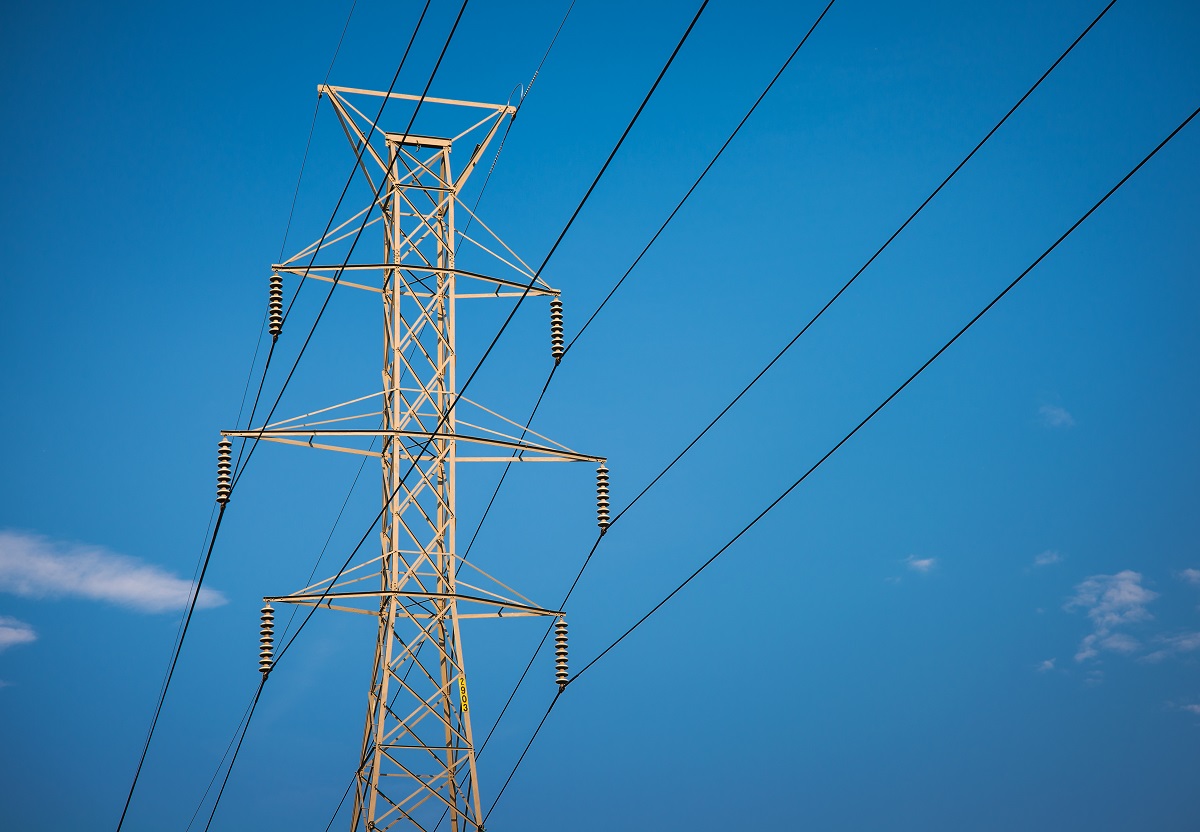 Interconnection Standards
Every distributed generation resource added to the ERCOT grid requires an interconnection agreement. Munis and co-ops should be aware of additional county and city permit regulations and building codes that may affect the DG system when developing the interconnection agreement.[iii] Utilities typically develop interconnection agreements prior to the construction of a solar array with the distributed service provider. This agreement also accounts for the transferring of the power benefits and is usually negotiated through a power sales agreement between the project owner and the utility or host.
Registration Requirements
A DG resource of one megawatt (MW) or greater is required to be registered with ERCOT in accordance with Section 16.5 of ERCOT Nodal Protocols. If the DG Resource is ≥ one MW and will supply net power onto the ERCOT System, the owner of the DG resource should complete the following actions:[iv]
Complete interconnection requirements with host Distribution Service Provider (DSP).
Submit the Resource Entity Registration Form to ERCOT
If metering is ERCOT-polled (meaning ERCOT reads the meter), complete the design and installation of an ERCOT Polled Settlement meter. Refer to the Settlement Metering Operating Guide for more information.
If metering is read by the Transmission/Distribution Service Provider (TDSP), not ERCOT-polled, then the Resource Entity contacts the TDSP to request copy of a completed TDSP Read Generation Registration Form and submit to ERCOT along with the Distributed Resource Registration Form.
Submit the Distributed Resource Registration Form to ERCOT. Designate a registered load serving entity to serve the generation facility during "net load" conditions.
Designate and acknowledge a Qualified Scheduling Entity to financially settle with ERCOT in advance of injecting power onto the ERCOT System.
If a DG resource of ≥ ten MW is going to supply net power to the grid, ERCOT requires a more regimented interconnection process in addition to registration requirements. While the PUCT requires no regulatory actions from munis and co-ops, PUCT resources regulating electric service providers can and have been used by nonprofit utilities to guide decision-making when developing a distributed generation resource. The sections below, from Chapter 25. Substantive Rules Applicable to Electric Service Providers, may be useful when considering the development of a community solar program:[v]
Section 25.109 – Registration of Power Generation Companies and Self Generators
Section 25.211 – Interconnection of On-Site Distributed Generation (DG)
Section 25.213 – Metering for Distributed Renewable Generation and Certain Qualifying Facilities
Section 25.217 – Distributed Renewable Generation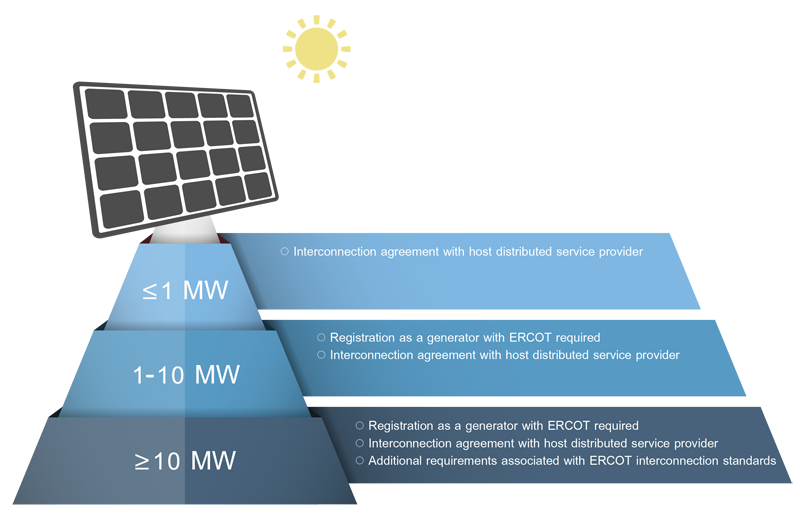 Sources:
[i] Testimony of the Texas Public Power Association (TPPA) to the Senate Business & Commerce Committee, July 2012
[ii] Texas Comptroller, The Energy Report 2008, Chapter 27-- Electricity
[iii] Public Utility Commission of Texas (PUCT); Distributed Generation Interconnection Manual, 2002
[iv] Electric Reliability Council of Texas (ERCOT); Registration and Qualifications: Resource Entities, July 2016
[v] Public Utility Commission of Texas (PUCT); Electric Substantive Rules, Chapter 25